Disposing of Asbestos
Before conducting any work, all tradespeople should conduct a proper assessment of the property they are working in, to determine whether asbestos may or not be present.
As per the asbestos regulations (Section 6.6 - Part B) - identification of asbestos should be done by a competent person. Competency is determined by knowledge and skills achieved through appropriate asbestos awareness training.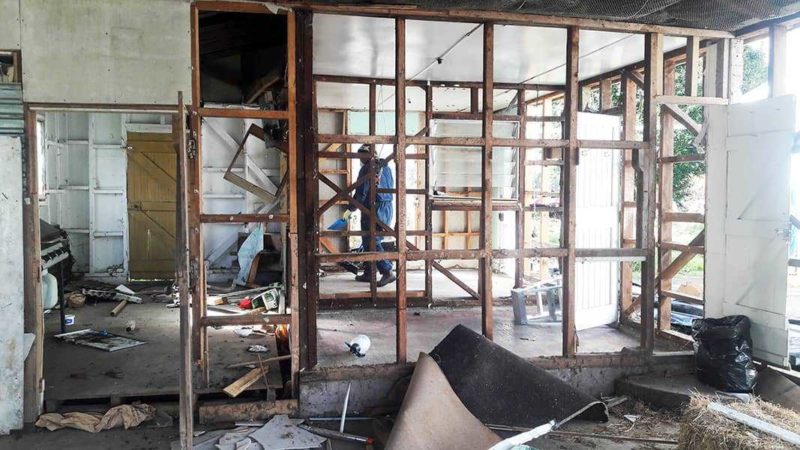 Here is a basic checklist and some questions to assist you:
Are you competent to do an asbestos inspection? 
What do you know about the property? How old is it? 
What is it made from (stucco, weatherboard, fibro etc)? 
Conduct a visual inspection internal and external to see if you can spot any asbestos materials in other areas that might give an indication of the use of asbestos throughout the property.
Ask the home owner if they are aware of any asbestos within the property or have had other work done that has uncovered asbestos?
In a commercial property always ask the business owner to see a copy of their asbestos management plan.
If asbestos is present, what is the condition? does it appear to be intact or does it look to be crumbling. Is it sealed or exposed to the elements? Remember! this is a visual inspection only. Don't tamper with it to test its condition.    
If in any doubt, and you have concerns that there could be asbestos present, treat it as if there is, and take all appropriate precautions.
If asbestos needs to be removed or is likely to be disturbed we recommend engaging a licensed professional to conduct the work.
Safety Precautions
It is really important that you always take adequate precautions to protect yourself and others against asbestos, even on small jobs that don't seem to create much dust - like drilling. 
Where possible, plan the job in advance to avoid disturbing any asbestos. If asbestos has to be disturbed, don't start work until you have doubled checked how to do it safely and that you have had asbestos awareness training.
These simple steps will help keep you and others safe:
Keep dust down
Use the correct protective equipment
Clean up properly
Disposing of Asbestos
Asbestos is a hazardous waste and must be disposed of correctly. 
Asbestos waste must only be disposed of at an approved local authority refuse site. It must not be sold or re used. It must be removed from the construction area to an approved refuse site as soon as possible. Incorrect disposal of asbestos waste is prohibited and can result in a fine or prosecution.
WorkSafe has a regularly updated list of New Zealand sites consented to accept asbestos waste. Asbestos cannot be taken to the site without prior arrangement and must be packaged correctly for disposal.
Asbestos must be transported and delivered in a safe and secure manner. Asbestos Aware strongly advises you to use experienced asbestos removal companies to undertake the removal, transportation and disposal of asbestos from your home.
Asbestos specialists should follow approved methods for storage, transport and disposal, such as:
Placing asbestos into closed containers that are impermeable to asbestos dust.
Using bags no bigger than 1200 mm x 900 mm, and only half-filling them.
Being careful when letting excess air out so that asbestos dust is not released.
Double-bagging materials in case of bags rupturing during handling and transport.
Sealing the bags or sheets well to prevent asbestos dust from escaping.
All asbestos waste must be sealed in plastic bags (200µm thick) and labelled "Asbestos hazard - wear respirator and protective clothing while handling contents".
Make Enquiry